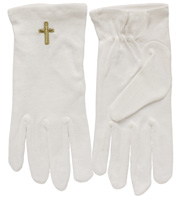 White Gloves With Embroidered Gold Cross SKU: 5417
Unisex white gloves embroidered with a beautiful antique gold cross. Available in sizes Small - XL. Specify sizes below. Good Selling Item! 100% cotton, Economical gloves.

White Gloves With Embroidered Black Cross or Usher and Cross SKU: 2090
Small, Medium, Large, XLarge mens sizes With Cross, Usher (with Cross), or no embroidery. Cotton. Hand wash. XXL available without embroidery only. Note: X Large size runs small. Economical gloves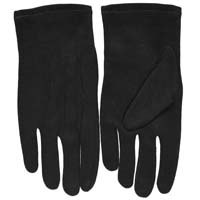 Black Usher Funeral Gloves or Special Service SKU: 6728


Classic Black dress gloves for men and women. Perfect for use or to keep on hand for special church services or as funeral usher gloves. Specify sizes. Unisex Sizes XSmall - XLarge. For XL size, add $1.00 to gloves per pair. (XXL not available in black) Black usher gloves. See Chart below.