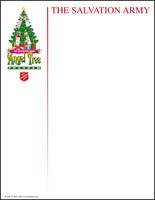 Salvation Army Angel Tree Letterhead 200Pk

8 1/2 x 11" Salvation Army Angel Tree Program letterhead. Sold in packages of 200. Only sold to Salvation Army Corps.


Steel Donation Box, Sign Holder Floor Stand SKU: 2013Stand
Attractive Strong Solid Steel Donation Box with built-in lock and a "Take One" holder for cards and/or donation envelopes. Mounted on a black floor stand with a sign holder to accommodate a 22 x 24 poster. We can also print a custom poster for this box from your provided art (Please allow 5 days for custom sign printing)! Made from steel to resist scratching. Size: 8½" x 8" x 9 3/4" Box Slot measures 6-3/4" x 1/4". The entire piece from floor to top is as follows: 59" Tall x 22 ¼" Wide. Easy To Assemble. Boxes available in Red, Black, Tan. Replacement keys are not available.