First Holy Communion Certificate SKU: 5401
These absolutely beautiful First Holy Communion certificates are printed in high quality full color with gold foil accents. Antique torn edges surround this certificate which Communicates can frame as a keepsake of their Sacrament for years to come. The text reads, (First Communicates' name) Received the Blessed Eucharist for the first time on the (day blank) day of (month blank) in (year blank). Space below for Priests' signature. Illustrations on certificates are available in either boy or girl (priced per certificate). Price each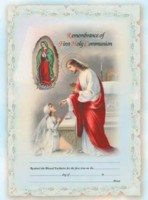 Primera Comunión (First Communion Certificates) Spanish SKU: 5402
Primera Comunión (First Communion Certificates) Spanish Estos Primeros certificados absolutamente hermosos de la santa Comunión son impresos en el color lleno de alta calidad con acentos de papel de oro. El certificado leeRecuerdo de mi Primera Comunión "(nombre) hizo la Primera Comunión en la Iglesia (Iglesia) el día (dia) de (mes)." Line for Priests' signature. Las ilustraciones en certificados están disponibles para o chico o la chica especifica por favor abajo.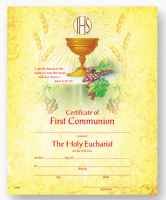 Certificate of First Communion & Envelopes SKU: 5426
These absolutely beautiful First Holy Communion certificates are printed in high quality full color 8 x 10". Communicates can frame as a keepsake of their Sacrament for years to come. Packaged in a pack of 50 certificates with envelopes. Broken packages available