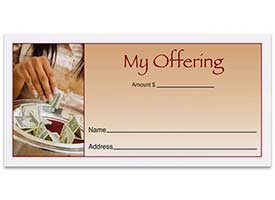 Church Envelopes 4 Color One Side SKU: 2164
Custom printed white dollar bill size church donation envelopes printed 4-color process one side. Envelope Size is 6.25"w x 3"h with easy to open flap. Colored paper envelopes add $7.00 per thousand additional, choose color below. The print area is 5 3/4 X 2 1/2. Click on product name for ordering information and pricing options. Normal production time 6-9 working days from final proof approval. Please allow additional time for shipping. Ordering Quantities below reflect per thousand envelopes. (EX: Ordering quantity of 1 = 1000 envelopes, 2 = 2000 envelopes, etc.)

Pricing includes: Pre-Flight of your supplied file, Digital Emailed Proof, Normal Set-Up and Printing on White Envelopes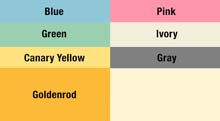 Colored Church Pew Blank Envelopes Green & Blue Box of 1000 SKU: 2177
3 x 6 1/8 Blank colored stock dollar bill size church donation offering envelopes. Easy open flap. Box of 1000.Available in Blue, Ivory, Gray, Green, Canary Yellow, Lavender, Goldenrod, Pink. White see special prices. Great pew envelopes for tithing churches. Ordering below are per thousand envelopes. (EX: Ordering quantity of 1 = 1000 envelopes, 2 = 2000 envelopes, etc.)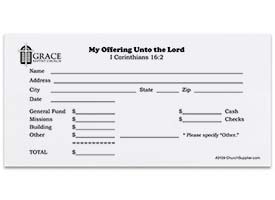 Custom Printed Church Envelopes - Black Ink Only SKU: 2120
Custom Printed White Dollar Bill Size Church donation envelopes printed in Black ink only with your artwork. Envelope Size: 3" x 6 1/8" with easy open flap.
Colored envelopes available $4.95 per thousand additional, please choose color below. Normal production time 6-9 working days from final proof approval. Please allow additional time for shipping. Ordering Quantities below reflect per thousand envelopes. (EX: Ordering quantity of 1 = 1000 envelopes, 2 = 2000 envelopes, etc.) Send Artwork to:" sales@churchsupplier.com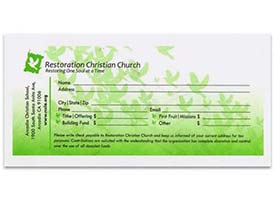 Church Envelopes - Black & 1 color 1 side SKU: 2120b


Custom Printed Dollar Bill Size Church Envelope 3" x 6 1/8" easy open flap white envelopes. Colored paper envelopes available for an additional $4.95 per thousand. Black plus one color. 2 colors of ink $30.00 add'l. 6 3/4 size envelopes same price. Normal production time 6-9 working days from final proof approval. Please allow additional time for shipping.
Pricing includes Printing, White Envelopes per thousand & Basic Setup. Colored envelopes, Colored inks and Freight costs extra.Call us today at 1-800-322-6203 to discuss your ordering options! E-mail copy to: sales@churchsupplier.com. See our custom printing envelope template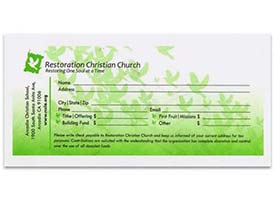 Church Envelopes -1 color 2 sides
SKU:
2163
Custom Printed Dollar Bill Size Church Envelope 3" x 6 1/8" easy open flap white envelopes. Colored paper envelopes available for an additional $4.95 per thousand. Black ink only. 2 colors of ink $30.00 add'l each color. 6 3/4 size envelopes same price. Normal production time 6-9 working days from final proof approval. Please allow additional time for shipping.
Pricing includes Printing, White Envelopes, Basic Setup. Colored envelopes, colored inks and Shipping is Extra.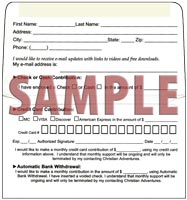 Custom Remittance Long Flap Envelopes Single Sided Printed SKU: 2136ss
#6 3/4 White Offering Envelope printed one color black ink with long flap for extra hidden information. Single sided printing on 2 panels. Glue on flap. Size: 3.5 x 6.5 folded. Download the layout for printed remittance envelope.
Note: envelope copy must fit template. Any art changes by us are additional $60.00 per hour. Mailable. Shipped unfolded. fundraising envelopes.