Sales Tax:
The current law requires that we only collect sales tax for Pennsylvania deliveries only from everyone that has not supplied a tax exempt certificate. If you represent a non-profit Pennsylvania organization or are buying for resale please supply the appropriate form and we will eliminate the sales tax charges.
Questions

?
Call us at 215-322-6200, Toll Free 1-800-322-6203 or Email us at

sales@ChurchSupplier.com

. Our internet ordering is available 24 hours a day.
The ChurchSupplier offices are open Monday-Friday 8:30-5:55 PM (Saturdays during December EST). We are located at 20 Industrial Drive, Warminster, PA 18974, USA. We sell to churches, Organizations and individuals at wholesale prices. We love our customers, and our customers love our value and service. If you live near us, come pick up your order and save on shipping.
You can be assured that your order information is protected by the highest level of online secure payment systems. Your credit card information will be encrypted through Secure Socket Layer technology, sending your information safely through the servers to process your payment. We do not share your name or Email with anyone else.
Privacy Policy
ChurchSupplier.com and associated companies knows that you care how information about you is used and shared, and we appreciate your trust and what you to feel confident in our services and security as it relates to your personal information. Click on the link to read our complete privacy.

Payments
We accept VISA, MASTERCARD, AMERICAN EXPRESS, DISCOVER, PayPal, Amazon Pay, Debit Cards, Checks on US banks, Money Grams, Wire transfer and Cash. Wire Transfers and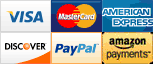 Money Orders (made payable to ChurchSupplier or Neibauer Press in USA funds.) as forms of payment. Our PayPal account is nathan@neibauer.com. For international orders only, you can also wire us money using ACH. Please call our Accounting Dept for instructions. No C.O.D.'s. We are not responsible for foreign banks surcharges for orders or refunds.
We do not bill customers under $1,000.00 in US. For orders over $1,000.00 we require credit information and perform a credit check. Please Note: This process normally takes up to 2 weeks.
Shipping Handling and Insurance
Domestic:
All orders are shipped via UPS, US Priority Mail, FedEx, First Class or Parcel Post methods in North America, including Alaska, Hawaii and Mexico. We do not ship on weekends. Please allow up to 5 days for regular ground shipping in continental North America. UPS and USPS Expedited shipping such as Overnight, 2-day and 3-day guaranteed deliveries are all available at an extra cost.

Our shopping cart will allow you to choose these expedited shipping methods and will generate costs for you at time of check-out. Most jewelry items ship US Priority Mail with an advertised delivery time of 2-3 postal service days anywhere in the US. Minimum shipping charges are $5.50. 12 % of your total order is a good estimate of what your shipping charges will be in USA. If you are in the Philadelphia, PA area you may want to pick up your order and save shipping charges.

Canada, Alaska: Minimum shipping charges are $19.95 by UPS. Mail is cheaper for small packages. 25% of your total order is a good estimate of what your shipping charges will be. Some heavy or bulky items may have additional shipping costs (For Example: Coin donation cans may incur additional UPS charges for oversize package charge of $10.00 per box) If you are not available to authorize additional shipping charges that your order may incur, it will not be shipped until we receive such authorization. We are not responsible for your Local or National Duty or VAT/GST Taxes.
Foreign (includes Puerto Rico): Shopping cart may NOT reflect your actual shipping charges. Minimum shipping charges are $24.00. Actual freight will be charged.

>We will inform you of your actual charges prior to shipping. Certain heavy items are impractical to ship to foreign countries because shipping costs are much higher than the cost of the goods. We are not responsible for your Local or National Duty or VAT/GST taxes
We ship global, however some orders will require wire transfers to cover costs of goods and shipping. We only ship with signature required.

Military APO/FPO
Shipments typically take 5 - 7 days with some locations taking several weeks or longer. The US Postal Service does not support delivery confirmation to any APO/FPO addresses.


Order Processing
Orders normally ship within 24-48 hours for items that are in stock. Please include this processing time when placing your order for a need-by date. PLEASE NOTE: Custom orders or orders that require an imprint or personalization take longer and production times vary by item. Please call for normal turnaround time specific to your item. Generally, a custom item takes 2-4 weeks to produce. If you are interested in RUSH service, please call to discuss your options. Rush service is generally available, however rush charges will vary by product. Any damages or shortages must be reported to Customer Service within 5 business days of delivery.
If items are out of stock, you will be notified in a timely manner via the e-mail address or phone number you provided. Please allow up to 10-14 working days for us to re-stock our warehouse.
Add Churchsupplier.com to your safe-sender list so that our notifications do not go into your spam folder.
Rush orders requesting same day processing and shipping will incur an additional charge of $10.00. Please call and place these orders with a representative.
All prices subject to change. Our web site has all current prices.
We are an internet-based business and so not have printed catalogs.
Thank you.
Substitutions
We reserve the right to update model designs whenever these changes represent an equal or better value for our customers. Items illustrated on this site are usually taken from actual photos of the products available at the time. An updated version may be substituted at a later date. Products depicted may vary slightly from the actual product because of this updating. All the sizes of products indicated or shown on this site are close approximations. While ChurchSupplier.com makes every attempt to list product information, price information, and all other information accurately, there may be an occasional typographical error. We cannot be held liable for such typographical errors, and reserve the right to refuse to honor an order based upon misunderstanding arising from such typographical errors.
Returns
For all returns and exchanges, please call Customer Service to receive an Return Merchandise Authorization (RMA) Number. The RMA# must be clearly visible on the outside packaging of the items being returned to our warehouse. Any returned item's without a valid RMA# number will not be accepted. Without a RMA#, a refund or exchange will not be issued. Upon arrival at the ChurchSupplier warehouse all returned items are inspected. All returned merchandise must be in its original packaging. It must also be in new and unused condition. Any merchandise returns received not in its original packaging will not be accepted and refunded. REFUNDS: You will be refunded* the cost of the returned merchandise and all original and any additional shipping charges that may occur if your return is a result of our error.
If the return is not a result of our error and your item is returned within 30 days of delivery, we will refund the cost of the merchandise minus the original shipping charge and actual return shipping fees. All products are subject to a 10-15% restocking fee. After 30 days of delivery, you will be charged a 15-20% restocking minus the cost of all shipping. Once an order is more than 60 days old, we no longer accept returns. No exceptions.
We do not give refunds or exchanges for the following products:
• Custom-imprinted materials
• Sample Packets
• Usher & Clergy Apparel
Unless otherwise stated below, you have 30 days from the date your product left the warehouse (regardless of when you actually took delivery of the product) to get a valid RMA from our Customer Service department and get your product to a shipper to return back to us. It does not have to be back in our warehouse within 30 days, but it does have to be in the possession of the shipper (along with the valid RMA). RMAs must be valid, unexpired, and issued for the product being returned. Only one RMA is issued per return.
All returns must include the following:
1. Valid Return Merchandise Authorization (RMA).
2. Original packing slip. Do not dispose of the packing slip until you have examined and tested the product to your satisfaction.
3. The RMA number must not be written on the original manufacturer's packaging or box. Please write the RMA number on the label used to return the item or the brown shipping box. Items received with any writing on the original manufacturer's packaging or box will be refused and returned to you at your cost and without credit approval.
*You can expect to receive your refund within four weeks of shipping your package back to us. In most cases you will receive a refund sooner, but we estimate four weeks because of the time required for return shipping (up to 14 days), product inspection at our returns facility (up to 5 business days), and processing from your bank or credit card company (up to 5 business days). We will notify you via email with the details of your refund, and issue your refund in the form of payment used to make your purchase.

Wholesale
For all wholesale orders, please call Customer Service at (800)322-6303 to receive special pricing.

All wholesale orders must meet the following requirements:
• Opening Order Minimum: $250.00
• All orders after opening order must meet a minimum of $150.00 per order plus shipping.
• Any coupons listed on the website cannot be used for wholesale orders.
• Only items manufactured by Churchsupplier.com, Neibauer Press and Sterling Gifts will received wholesale pricing. Discounted pricing will be based per item and on the quantity ordered.
• All wholesale orders must be payed by credit card.


To return materials from a wholesale order, contact Customer Service within 45 days of delivery for a valid RMA (Return Merchandise Authorization) number. All wholesale products are subject to a 15% restocking fee. The original shipping charge and actual return shipping fees are non-refundable. After 45 days of delivery, we no longer accept returns for any wholesale orders. No exceptions.
We ship to the following countries : Australian, New Zealand, Bermuda, India, Japan, US (United States), Canada, UK, EU including Germany, France, Switzerland, Netherlands, Belgium, Scotland, Ireland, Wales, England, Norway, Finland, Sweden, Denmark, Italy, Spain, Iceland, Greece, Not on the list? Please email us.
When Will My Order Ship?
Please use this formula to determine when your order will arrive:


Processing Time + Warehouse Time + Shipping Time = Total Delivery Time
Processing Time

= One day to review your order, your credit card authorized (much longer for checks and money orders), and to make sure the ship-to address is on file with your credit card company. If your card does not authorize, your order will not proceed to the next step. If your ship-to address does not match your bill-to, or is not on file with your credit card company, your order will not proceed to the next step. If your order does not proceed to the next step, we will notify you via your order status and by email with instructions on how to proceed. If no action is taken your order will be cancelled. Minimum time: 1 business day.
We normally do not process orders on Saturday, Sunday or holidays. Allow an additional 1 to 2 business days for weekend orders. Warehouse Time = After your order is processed, we send it to the warehouse. If the product is in stock, it will be shipped in a day. Stock availability is indicated in each product description on our web site, but high-demand items sometimes sell out faster than our web site indicators can display. Minimum time: 1 business day

Shipment Time

= The time it takes for the shipping company to drive or fly your product to you. If you select regular shipping, this time could be a week. Some regular shippers do not display tracking information. Ground shipping is the default shipper in your shopping basket so if you do not want ground, please notify us. shipping
Multiple Types of Items

ChurchSupplier Warehouse may ship each product at different times and from different warehouses. We cannot guarantee which shipping company will ship your product to you. Do not be concerned if you receive only one of your products in a box. The other products might arrive soon after from a different location.
Gift Cards

Gift cards available at no charge for gifts sent directly to the recipient.


Urgent Delivery - NOTE: If you make a purchase and want next day delivery, your order might not arrive the next day.

To be sure all items are available for immediate shipment, contact Customer Service before placing your order. If you want to use next day or second day delivery, your order must be placed before before 2:00 pm EST, Monday through Friday (holidays and weekends not included) and make sure to contact Customer Service with your order number. There is a $10.00 RUSH fee for orders that need to be shipped the same day it are placed.

Gift Certificates

available with Email announcements.