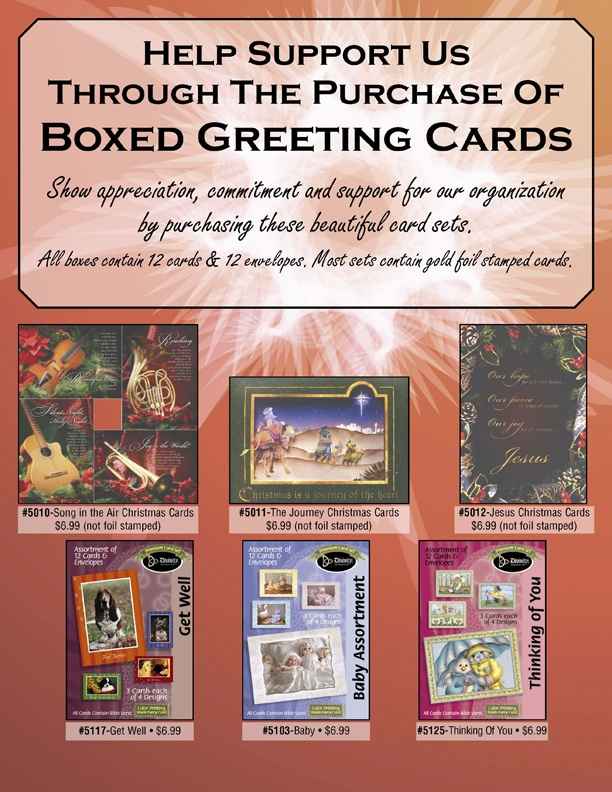 Buy the small starter kit for $29.95 plus shipping. You'll get 12 Full Color Selling Brochures and an assortment of 8 full boxes of cards for samples .
Buy our large starter kit for $199.95 plus shipping. You'll get 50 Full Color Selling Brochures, personalized with your name and address, along with and assortment of 52 Full boxes of cards for samples. (You can sell these boxes of cards for $7.99 each).
Eager to get started today? Simply download the order form below and take orders.
To download brochure -

Click here to download

all forms in a zip file, (Select "Save" in the pop-up window).
See below for a list of the current available boxed cards to choose from. Only greeting card boxes listed on this page apply to the fundraising program.
Make sure you have a minimum of at least 50 boxes to receive "special" fundraising pricing.
Decided on either $3.50 per box (plus 15% shipping) or $4.00 per box (ground shipping included).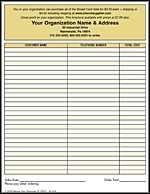 Order Form
View Full Image
***Fundraising pricing as listed on order form for boxed cards is based on an assortment of 50 boxes or more. There is a shipping charge of 15% for ground shipping on all orders with the $3.50 pricing. For the $4.00 per box pricing, your order will be shipped by Ground shipping only (within the US Continental 48 states and the District of Columbia). Any orders that need to be rushed, must pay $3.50 per box charge plus expedited shipping charges. We can also give you a second version of the brochure and order sheet with $7.99 prices for increased profit for your fundraiser. Payment is due prior to shipping product. These cards are ready to ship. We also do custom cards in quantities of 1000 or more. Call for more information.