Steel Donation Box, Sign Holder Floor Stand SKU: 2013Stand
Attractive Strong Solid Steel Donation Box with built-in lock and a "Take One" holder for cards and/or donation envelopes. Mounted on a black floor stand with a sign holder to accommodate a 22 x 24 poster. We can also print a custom poster for this box from your provided art (Please allow 5 days for custom sign printing)! Made from steel to resist scratching. Size: 8½" x 8" x 9 3/4" Box Slot measures 6-3/4" x 1/4". The entire piece from floor to top is as follows: 59" Tall x 22 ¼" Wide. Easy To Assemble. Boxes available in Red, Black, Tan. Replacement keys are not available.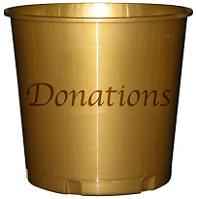 Fundraising Donation Bucket Large Plastic Reuseable SKU: 1774
Gold or Cream colored Plastic bucket "Donation" in Gold. Bucket 176oz. Fundraising Offering bucket. Great for churches and Fundraisers Bucket size: 8" tall, 8 1/2" Top, 6 1/2" bottom. No setup charges. Donation pails. Made in USA. offering buckets. In stock ready to ship.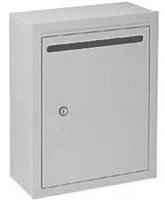 Huge Aluminum Outdoor Locked Donation Box
$199.95
$169.95


SKU: 2042
Attractive Solid aluminum Outdoor Donation Box, money fund raising donation box Hold Lots of Donations for your organization. 15" x 19" x 7 1/2 deep" Built in lock. Can be use to collect offering envelopes, prayer request box. Made from aluminum to resist rust. Slot measures 11 1/2" x 3/4". Holes for wall mounttng collection box. Comes in Aluminum, brass and bronze colors. Powder coated.


Wood Donation Box w Window on Floor Stand SKU: 2027
Attractive Oak Wood Donation Box with built-in view window, built in lock and a "Take One" holder for cards and or donation envelopes. Mounted on a black steel floor stand. Size: 8½" x 8" x 9 3/4" Large Box Slot measures 6-1/4" x 1/4". Easy To put on legs. Replacement keys are not available. Comes with or without cross on front.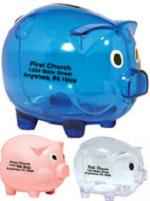 Medium Piggy Bank Plastic (150 Minimum ) SKU: 104
5" Translucent Piggy Bank Donation Bank. Blank or personalized with removable plug in bottom for easy coin retrieval. 150 minimum quantity for imprinting Available Colors: Clear, Pink, Translucent Blue or White. Size: 5" W x 4" H x 3 3/4" D. Imprint Area: 2" diameter. Individually boxed. Plug in bottom. Set up-charge: $45.00 additional per location Pricing includes 1 color imprint. Production Time: 7-14 working days. Rush Service Available at add'l charge. Please call to order.